Vehicle Graphics 车身广告制作
An innovative method of promoting a brand,vehicle advertising uses a vehicle as a moving billboard, creating a high retention rate among potential customers who see it. Vehicle advertising can be seen on freeways, city streets, parking lots, etc.
一个推广品牌的创新方法,车身广告使用车辆作为移动的广告牌,迅速扩大公司的曝光率,让更多潜在客户认知并记住品牌。车身广告上可以在高速公路,城市街道,停车场等地点被关注。
Raise the profile of your business
提升您的的企业形象
We design and manufacture
vehicle decals and stickers, wraps and graphics.
我们设计和制作汽车贴花,贴纸,广告包装和图形。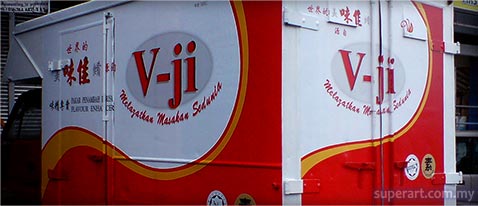 Vechine Graphic Service:
车身广告服务:
Van Graphics | 货车广告
Car Graphics | 汽车广告
Vehicle Wrapping | 车辆广告包装
Custom Decals | 贴花贴纸制作
Lorry & Bus Graphics | 货车和巴士广告
Promotional Graphics | 促销广告